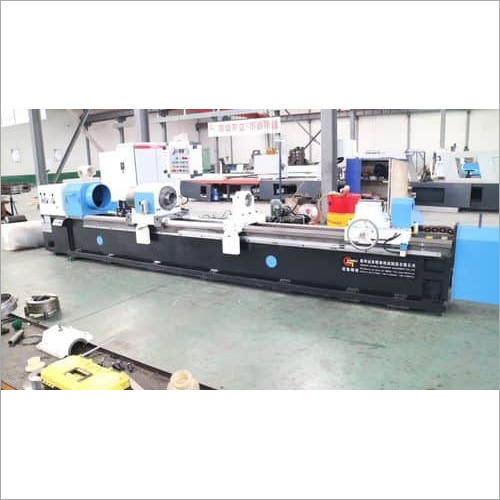 Product Description
  This is one CNC deep hole drilling machine with high efficiency, high accuracy and high automation. It adopts chips inside removal method(BTA method) to drill holes with small diameters . After one-time constant drilling, it could achieve the processing accuracy and surface roughness that only traditional processing methods of drilling, expanding, and reaming can be guaranteed.
It can not only drill the same diameter hole , but also drill blind hole or taper hole .
This machine is mainly used to deep hole of the shaft type workpieces .
Drill box:

Used to drive the tool to rotate .Adopt single spindle structure, spindle motor drive the drill bar to rotate, speed stepless, max. rotary speed is 800r/min .The spindle bearing adopt NSK high precision angle contact ball bearing .Chips removal bucket is assembled on the rear of spindle for chips removal .
Drill bar rest:Used to support cutter shank , totally 2 groups .After hole finished , automatically dragged back to the original position by drill box through pulling mechanism; also the axial position of drill bar support rest can be adjusted by manual through rack and pinion mechanism .Manually anti-rotation device is assembled in front of spindle .
Center frame:Used to support the workpiece .
Adopt roller type structure, two rollers below and one roller on top .
The user can adjust the position of center frame on machine bed manually through rack and pinion structure to fit the workpiece process.
Machine mainly parameters:
1. Before shipment, every part of machine will be painted with a layer of anti-rust and water-proof oil to prevent possible erosion during transportation.Â
2. A plastic cover to wrap around machine parts to enhance corrosion prevention.Â
3. Export standard fumigated wood cases are measured and specially made for packing.Â
4. Steel wire will be used to tighten and strengthen the packages inside container.
Â
Dezhou Guanlu Precision Machinery Co., Ltd. located in Dezhou, Shandong, is a professional manufacturer of deep hole drilling machine (gun drilling machine), deep hole boring machine, deep hole drilling and boring machine, deep hole honing machine, deep hole skiving roller and burnishing machine as well as their relative accessories, such as gun driller sharpen device, BTA deep hole indexable drill head, deep hole boring head, deep hole pressing head and so on. Our company can also offer the customized deep hole machine solutions according to the customers' requirement.

In order to equips suitable deep hole machine tools for our customers, we have workshop to manufacture the cutting tools and accessories. So customer can inform the exactly deep hole diameter and workpiece dimension, we can provide the cutting tools and accessories to them accordingly.

Welcome to visit our factory. And thanks for choosing our deep hole machinery
Â
Any question about deep hole driilling machine, feel free to ask me!