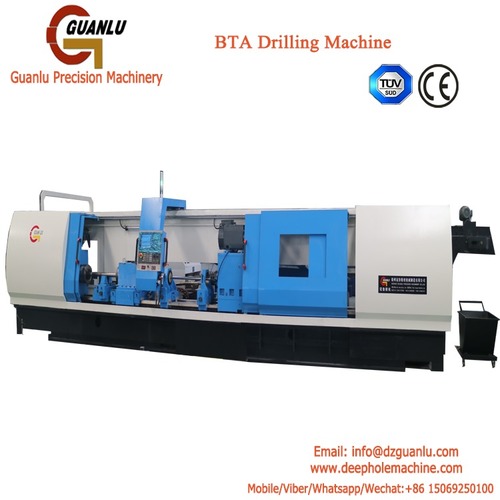 Product Description
CNC BTA drilling machine for tube sheet
This machine is used for cylinder workpiece center hole or offer center hole drilling, especially for the twin barrel hole drill(we called it "8"hole.)
Machine brief:
Machine processing capability:
| | |
| --- | --- |
| Solid drilling diameter range | Φ30~Φ100mm (By BTA solid drill head) |
| Counter boring diameter range | Φ35~Φ200mm (By counter boring head,cutting volue 15mm in diameter |
| Max. Hole drilling depth | 3000mm |
| Max. Workpiece length | 3000mm |
Machine processing method:
| | |
| --- | --- |
| Solid drilling mode | BTA drilling method(chips go out through drilling bar) |
| Hole boring process | Chips go out through workpiece's cored hole. |
| Infeed method | Tooling is rotary and infeeding, the workpiece is fixed |
Main components:
Machine base, worktable, and other basic parts

HT300 iron, resin sand precis

e

casting.

wice timing treatment, high rigidity and stability.

Workpice clamping

with 2 sets V type blocks to clamp the workpiece.

X-axis, Z-axis guide rails

Double rectangular sliding rails, precise grinding treatment, aging treatment, quenching treatment.

Drill bar box

The motor drives the spindle to rotate through the belt and gear box.

Rotary speed range: 70-1000r/min(2 grades,speed stepless adjustable), Main motor: 30kw(Inverter motor).

Tooling infeed system (Z-axis)

Adopts the servo motor driving the T type leading screw through the reducer structure. The speed is adjustable(stepless).

Drill bar rest

2 groups, supporting the drill bar.

Coolant system

To supply the oil for the tooling, consist of oil tank and 3 groups high press pumps.

Oil pressure head

The oil pressure head is used for cutter tooling guiding, oil supplying, supporting.

The oil pressure head is driven by ordinary motor to make axial movement.

The oil pressure head spindle can be pushed out and retracted under the control of the hydraulic system;

the oil pressure head can be automatically locked on the machine bed by the hydraulic pressure plate.

T-slot worktable(X-axis)

Horizontal director travel is 400mm;

Driven by servo motor, servo reducer and ball screw;

Worktable size 2400X600mm;

Worktable weight loading 4tons.

The working table base and the cutting tool base are separately casted,assembled together through high strength bolts and positioning by taper pin.

CNC system

GSK system

Machine main tech parameters
Items

Parameters

Remark

Working capacity

Solid drilling diameter range

Φ30~Φ100mm

Counter boring diameter range

Φ40~Φ200mm

Max. Drilling/boring depth

3000mm

Max. Workpiece length

3000mm

Workpiece OD range

Φ100~Φ300mm

Main spindle

1 PC

Machine capability

Tooling feed(Z-axis)

Feed speed range

5~500mm/min

Stepless

Rapid moving speed range

2000mm/min

Feed motor torque

23Nm

Drill box

Rotary speed range

70~1000r/min

2grades(stepless)

Motor power

30KW

Inverter motor

Worktable(X-axis)

Travel

400mm

Size

2400mmX600mm

Weight loading

4 Tons

Coolant system

Max. pressure

2.5MPa

Adjustable

Max. flow

300L/min

Adjustable
Machine configuration:
| | |
| --- | --- |
| Machine standard configuration | Machine optional configuration |
| Cutting tool oil supply constant rate pump group | Automatic paper filter |
| GSK CNC system | Chip conveyor |
| CNC system servo infeed motor | CNC system(such as Siemens or Fanuc) |
| Converter motor for drill box | Auxiliaries |
| Slide guide rail | Cutting tool |
| Hydraulic station | Cutting oil |
| 2 groups drill bar support | Automatic oil |
| T-slot worktable | Machine safety guard |
| Machine operating instruction *1copy | NSK spindle bearing |
| | Oil chiller |
1. Before shipment, every part of machine will be painted with a layer of anti-rust and water-proof oil to prevent possible erosion during transportation.
2. A plastic cover to wrap around machine parts to enhance corrosion prevention.
3. Export standard fumigated wood cases are measured and specially made for packing.
4. Steel wire will be used to tighten and strengthen the packages inside container.
Dezhou Guanlu Precision Machinery Co., Ltd. located in Dezhou, Shandong, is a professional manufacturer of deep hole drilling machine (gun drilling machine), deep hole boring machine, deep hole drilling and boring machine, deep hole honing machine, deep hole skiving roller and burnishing machine as well as their relative accessories, such as gun driller sharpen device, BTA deep hole indexable drill head, deep hole boring head, deep hole pressing head and so on. Our company can also offer the customized deep hole machine solutions according to the customers' requirement.

In order to equips suitable deep hole machine tools for our customers, we have workshop to manufacture the cutting tools and accessories. So customer can inform the exactly deep hole diameter and workpiece dimension, we can provide the cutting tools and accessories to them accordingly.

Welcome to visit our factory. And thanks for choosing our deep hole machinery
Any question about deep hole driilling machine, feel free to ask me!