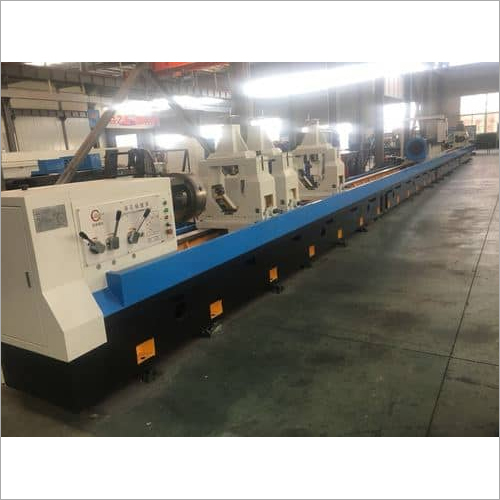 Product Description
BTA Deep hole drilling machine
Machine Operation:
The machine has the function of drilling, boring, pull boring, trepanning, rolling.
Machine brief:
1) Drill hole method: Single spindle internal chips removal (BTA method) . This machine is used for the cylindrical workpiece concentric hole processing.
2) Adopt front chips removal method when boring. It means the chips will flow out from holes on the clamp body of headstock front end.
3) Workpiece loading and clamping adopts one-end chuck and another end collect clamping
by manual .
4) The machine used guide rail is double rectangular sliding guide rail , which is processed through medium frequency quenching and precision grinding.
5) Tool feeding adopts servo motor ,servo speed reducer, rack and pinion structure , stepless speed can be realized .
6) Machine equips with one set drill bar support rest , which is assembled with hitching and pulling structure, pull the drill bar support rest back to original position when the processing finished and returning tooling ; Can also adjust the axial position manually through the rack on machine bed ,but rack and pinion structure should be released by releasing structure under the machine working condition .
7) Oil pressure head can do axial movement driven by motor to reduce the labor force . The collect is assembled in front end of oil pressure head .
8) Headstock drive the workpiece to rotate , Three-phase asynchronous motor to drive, main motor power 30kw. Three-jaw chuck is assembled in front end of chuck body .
9) Coolant system adopts three groups of quantitative pumps, with flow 100L/min, 200L/min, 400L/min .
Machine main parameters:
| | |
| --- | --- |
| Specifications | T2120*5000mm |
| Drill hole diameter range | 30-100mm |
| The max diameter of boring | 200mm |
| The height of center | 400mm |
| The range of max depth of boring | 5000mm |
| The diameter of chuck | 400mm |
| Rotary speed range and steps | 0-1000r/min, stepless |
| Feeding speed range | 5-2500mm/min |
| Main motor | N=30kw |
| Feeding motor | N=4.2KW servo motor |
| Cooling pump motor | N=5.5kW n=1440r/min 7.5kwX2groups |
| The rated pressure of cooling system | 2.5MPa |
| Flow of coolant | 200L/min ,200L/min, |
Machine main parts list:
Series

Item Name

Supplier

Series

Item Name

Supplier

1

Control system

Siemens

5

Motor of coolant system

China brand

2

Main motor

Three-phase asynchronous motor

6

Gear pump of coolant system

China brand

3

Spindle bearing

NSK

7

Main hydraulic pressure components of hydraulic system

China brand

4

Screw bearing

China brand

8

Main electric components

SCHNEIDER
1. Before shipment, every part of machine will be painted with a layer of anti-rust and water-proof oil to prevent possible erosion during transportation.
2. A plastic cover to wrap around machine parts to enhance corrosion prevention.
3. Export standard fumigated wood cases are measured and specially made for packing.
4. Steel wire will be used to tighten and strengthen the packages inside container.
Dezhou Guanlu Precision Machinery Co., Ltd. located in Dezhou, Shandong, is a professional manufacturer of deep hole drilling machine (gun drilling machine), deep hole boring machine, deep hole drilling and boring machine, deep hole honing machine, deep hole skiving roller and burnishing machine as well as their relative accessories, such as gun driller sharpen device, BTA deep hole indexable drill head, deep hole boring head, deep hole pressing head and so on. Our company can also offer the customized deep hole machine solutions according to the customers' requirement.

In order to equips suitable deep hole machine tools for our customers, we have workshop to manufacture the cutting tools and accessories. So customer can inform the exactly deep hole diameter and workpiece dimension, we can provide the cutting tools and accessories to them accordingly.

Welcome to visit our factory. And thanks for choosing our deep hole machinery
Any question about deep hole driilling machine, feel free to ask me!