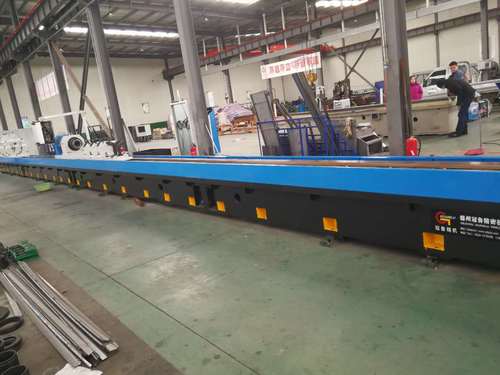 Product Description
T2150x6000mm blind hole drills and boring machining system
Machine brief :
The machine is special equipment for machining deep cylindrical hole of workpieces.It can be perfectly suited for drilling and boring through holes,blind and step holes in workpieces;Such as ,spindle of various kinds of machines,many kinds of hydraulic oil cylinders and cylinders and drill collars in the gas and oil field.

 It adopts BTA processing method,it can not only drill the deep holes,but also bore the deep holes. When drilling the workpiece,it adopts BTA chip remove method,that is: the coolant liquid arrive the drilling parts through oil supply device,the iron chips and coolant oil return to the drain back tank and chips removal device through the drilling bar hole.through the above method to realize the drilling purpose.

When boring the workpiece,we adopts pull boring front chip removal method(pull the boring head go ahead,and remove the front chips by that way) , the headstock spindle front equips chips removal device,used for boring and chips remove. When boring the workpiece,the workpiece rotary,so as to enhance the boring accuracy. The workpiece adopts double taper plate fasten Position,workpiece fasten easily. Position liable.

The machine is with PLC of Delta.

The machine isÂ

with drill box

,with which the cutter tool can turn when machine running.

The machine has the function of drilling,boring,trepaning,rolling and pressing,pull boring.
Machine mainly parameters:
Specification

Technical Data

T2150

CAPACITY

Boring Diameter range

120-500mm

Drill hole diameter range

50-120mm

Max. Boring depth

6000mm

Workpiece clamp diameter range

300-650mm

SPINDLE

Height from spindle center to bed

625mm

Spindle bore diameter

130mm

Taper of spindle bore

Metric 140#

Range of spindle speed

3.15-315r/min, 21 steps

INFEEDS

Infeed speed range

5-500mm/min  Stepless

Carriage rapid move speed

2m/min

MOTOR

Main motor power

30kw,n=960r/min

Hydraulic pump motor power

1.5kw

Infeed motor power

5.5kw

Coolant pump motor power

5.5kw,3 groups

OTHERS

Rated pressure of cooling sytem

0.36MPa

Flow of cooling system

300 600 900L/min

Rated working pressure of hydraulic system

6.3MPa
Â
Machine main frame:
The machine consist of the following parts: Machine bed ,,heads stock, drill box,chuck bed ,oil supply device ,carriage,carriage infeeding system,support frame, boring bar support frame,boring bar fixing frame,cooling system ,electric system,hydraulic pressure system ,chips removal device .

The main parts, such as machine bed ,carriage,tank body ,oil supply device and support frames are all casted by super iron .

The machine bed rail width isÂ

800

mmÂ

, which consists of double rectangle type guide rail .The guide rail is made of high-frequency quenching , which can ensure the high-strength , high-accuracy and high-rigidity of machine.

The machine's operation button station is in the front of the oil supply device,easy to operate. The oil supply fasten and workpiece fasten adopts hydraulic device, pressure is adjustable,the meter will show the pressure,safety and reliable. The oil supply spindle and machine spindle are in high condentricity ,easy to change the guide sleeves.
Machine main parts;
Motor: Hengli (China biggest motor manufacturer for ship

Electric: Schneider

Machine Bed: Casted by wooden mould, material is:HT300, time aging treatment. Precision machining,processing.

Bearing:Â NSK of Japan

Coolant pump/helical gear pump (Long life span with lower noise):Jiangsu

Oil tank /Electric box : Power painting

Control system : Delta PLC
1. Before shipment, every part of machine will be painted with a layer of anti-rust and water-proof oil to prevent possible erosion during transportation.Â
2. A plastic cover to wrap around machine parts to enhance corrosion prevention.Â
3. Export standard fumigated wood cases are measured and specially made for packing.Â
4. Steel wire will be used to tighten and strengthen the packages inside container.
Â
Dezhou Guanlu Precision Machinery Co., Ltd. located in Dezhou, Shandong, is a professional manufacturer of deep hole drilling machine (gun drilling machine), deep hole boring machine, deep hole drilling and boring machine, deep hole honing machine, deep hole skiving roller and burnishing machine as well as their relative accessories, such as gun driller sharpen device, BTA deep hole indexable drill head, deep hole boring head, deep hole pressing head and so on. Our company can also offer the customized deep hole machine solutions according to the customers' requirement.

In order to equips suitable deep hole machine tools for our customers, we have workshop to manufacture the cutting tools and accessories. So customer can inform the exactly deep hole diameter and workpiece dimension, we can provide the cutting tools and accessories to them accordingly.

Welcome to visit our factory. And thanks for choosing our deep hole machinery
Â
Any question about deep hole drilling machine, feel free to ask me!